Tampa's premier demolition contractor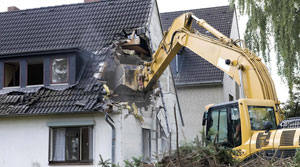 TNT is the local choice for house demolition, garage or barn dismantling, concrete removal and more. We offer full-service demolition services to residential and commercial customers throughout the City of Tampa, Lakeland and Spring Hill.
We're certified for safe handling of lead and asbestos debris commonly found in older homes and commercial buildings. Our crews are fully trained on the proper procedure for environmentally friendly removal and disposal of this potentially toxic debris.
Local demolition contractor in Lakeland FL
Our demolition team is fully licensed and insured and have decades of combined experience in the demo industry. Our wrecking services are fast and affordable, plus we make the process seamless by handling all the tedious details for you from permitting requirements to utility shutoffs. TNT makes the demolition process smooth and simple!
Types of demo we're equipped to perform
We handle all types of demo & wrecking projects. Our wide assortment and large inventory of heavy equipment ensures we can tackle even the toughest jobs. We utilize:
Excavators
Backhoes
Skid steers
Set trucks
Knuckle boom self-loaders
Dump trucks
Roll-off dumpsters and more
We're equipped to handle the demolition process from start to finish:
Demolish the structure
Clean up the debris and haul it to the appropriate landfill or recycling facility
Grade the site and prep for future construction (if applicable)
TNT works with homeowners, commercial property owners, government agencies and other contractors. Our crews will safely and efficiently demolish any size house, barn, garage, shed, swimming pool, commercial building or concrete removal project.
And don't worry about the debris cleanup, we'll take care of that too!
TNT is committed to excellence
When you go with TNT for your demolition project, be prepared to see what real service is all about! We are dedicated to our customers and will do what it takes to earn their complete satisfaction.
From the time you first call until the final piece of debris is hauled away, TNT is focused on delivering superior customer service. It's our goal to respond to any and all of your questions swiftly and accurately. You won't ever be left in the dark about what's happening at your demolition project; we keep you in the loop every step of the way.
Call TNT at (352) 437-5563 for a free demolition quote