Comprehensive lineup of beneficial services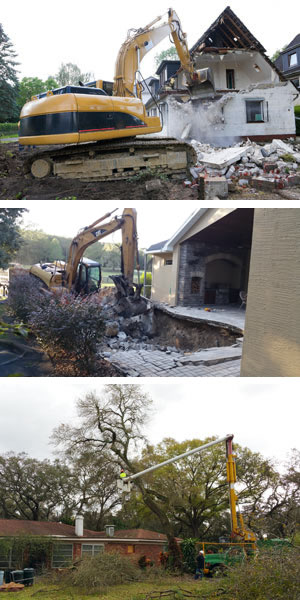 TNT Environmental offers a wide array of services to meet the varied needs of our customers. We help homeowners, contractors, business owners and government entities in all aspects of debris removal and land clearing.
TNT has been the trusted, go to source for tree removal in Tampa FL, since 2008. We have the expertise in tree and stump care removal and only use the best equipment available to remove your trees. Removing large trees can be very dangerous – so don't attempt to do it yourself, call the tree removal specialists at (352) 437-5563.
Some of the key services offered by TNT include:
Debris removal and disposal
Recycling
Bucket truck applications
Road cleanups (e.g., right-of-way debris removal)
Portable toilet rentals
Wastewater construction, engineering and treatment
Emergency cleanup situations
We're a state-and-locally licensed demolition contractor fully insured and certified to operate out of Dade City, FL and throughout the Tampa metro region. Everyone on our team, from in-office staff to our machine operators, are focused on delivering complete customer satisfaction on every project, big or small.
What makes TNT Environmental different?
We're a local, family owned and operated company
Our drivers, machine operators and technicians bring decades of combined experience to the table
Small Business Enterprise Certification in the Port of Tampa
We carry workman's comp, liability and auto insurance; we're licensed with the State and Pasco County
Our team participates in ongoing safety training to meet and exceed required safety standards
We're certified lead and asbestos removal specialists
We serve the entire Tampa area and will travel outside our coverage area as needed
We're the complete solution, offering tree removal, demo, land clearing/grading, debris removal and more
We strongly support recycling and offer innovative solutions for wood and C&D debris
TNT is "Committed to Excellence" and 100% dedicated to meeting our customer's needs. Give us a call to see how we can help get your project off the ground.
Call (352) 437-5563 to inquire about tree removal, debris cleanup, recycling and other services offered by TNT