Pool demolition experts serving Tampa, Lakeland and Spring Hill


Pool maintenance costs can average out to several thousand dollars per year, so choosing to demolish is a cost-effective option. Whether it's a dilapidated swimming pool that needs to go, or you're looking to demolish the old one to install a more efficient pool, TNT is Tampa's leading source for swimming pool removal.
We'll make quick work of your pool deck or patio as well. Let TNT help get your backyard project underway!
The basic pool removal process begins by removing loose items and pool surrounds. The pool itself is then broken up using heavy equipment. The debris is collected and hauled away. Finally, the hole is filled in with fresh dirt to complete the project. We'll even grade the site, so it's ready for grass seed or sod.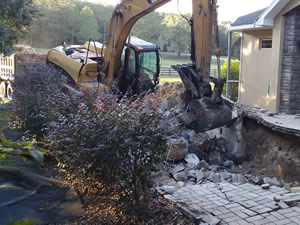 Our crews have decades of combined experience in the demolition & excavation industry. We're fully licensed and insured on a local and state level. Our demo & wrecking specialists will get the job done quickly, safely and on budget.
Types of swimming pool demolition
There are two primary methods to remove an inground swimming pool and one basic method for removing above ground pools. Below is a brief explanation of each.
---
Partial pool removal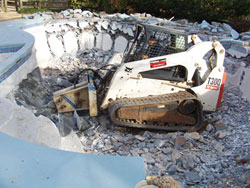 This type of demo utilizes heavy machinery to break up the walls of the swimming pool into small pieces and then back-filling the hole with fresh dirt to cover all the debris. The area can then be graded.
A partial pool demolition is a cost-effective approach to ridding your backyard of a pool; however, it may not be the best option if you plan to build any type of structure on that piece of property. Why? Over time the pieces of broken up pool debris below the earth can shift when under heavy loads, and this causes the ground to move with it.
---
Complete pool demo & removal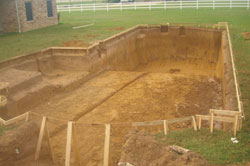 Also referred to as a "total" pool demolition, a complete pool removal involves breaking up the pool sides and bottom and removing all the debris from the hole. The debris is hauled away to the appropriate waste disposal facility, and fresh dirt is used to fill in the hole (unless you plan to have a new pool installed).
This is a suitable option for building because it gives you a solid base to work with. It's the most preferred way to demolish a swimming pool.
---
Above ground pool removal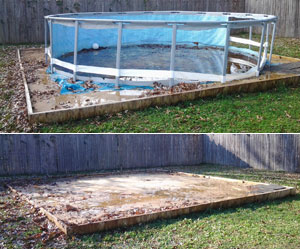 Relative to inground swimming pool demolition projects, above ground pool removal is completed quickly and inexpensively. This is due to the fact that it's a less labor-intensive project. The basic process involves breaking down the pool structure, loading up the pieces of debris and hauling it away. There may be more labor involved for complex projects, such as those with a large deck or patio that needs to go as well.
No matter the size or type of swimming pool, TNT Environmental has the tools, equipment and know-how to get the demolition done on time and within your budget. (Image source)
---
Call TNT at (352) 437-5563 for a free quote on pool removal in Tampa FL